Limassol Nightlife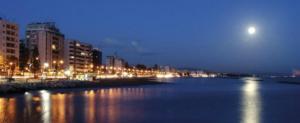 The many quaint historical sites in and around Limassol offer visitors a quiet place to reflect upon the ancient life and times. In contrast, a bustling metropolis greets these same visitors at night.
Everyone - from young professionals to relaxed couples - will find the nightlife that suits their tastes. Casual clubs in the Old Town area of Limassol cater to the hip, stylish crowds and offer a place for young visitors and locals to mingle. On the outside of this excitement are coastal pubs that reflect the needs of the area's tourists. Enjoying wine and spirits is only half of the city's abundant nightlife. Dancing to great music as discos offers a way for all to shake off the stresses of the day by pounding their feet to the rhythm of the music.
Since most clubbers only start their adventures after 2 a.m., establishments like Starbucks are open just as late to cater to the crowds who enjoy a more subdued environment.
Most of the clubs in the coastline area cater to tourists, so if you do want to hang with locals and perhaps in a more laid-back environment, consider visiting the Old Town area of Limassol, where many locals congregate at night at coffee shops, laid-back clubs, and bars.
Whatever type of atmosphere you're in search of, Limassol's nightlife provides something for everyone.