Best Enterprise Award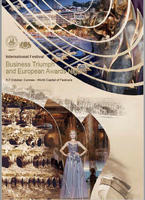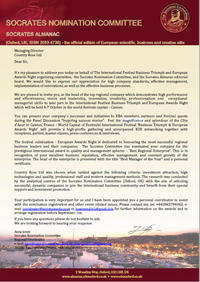 NOMINATION COMMITTEE
SOCRATES ALMANAC
(Oxford, UK, ISSN 2053-4736) - the official edition of European scientific, business and creative elite

Managing Director
Country Rose Ltd

Dear Sir,

It`s my pleasure to address you today on behalf of The International Festival Business Triumph and European Awards Night organising committee, the Socrates Nomination Committee, and the Socrates Almanac editorial board. We would like to express our appreciation for high company standards, effective management, implementation of innovations, as well as the effective business processes.
We are pleased to invite you, as the head of the top regional company which demonstrates high performance and effectiveness, vision and leadership, innovation, creativity, professionalism and exceptional managerial skills to take part in the International Festival Business Triumph and European Awards Night which will be held 6-7 October in the world festivals capital – Cannes.
You can present your company`s successes and initiatives to EBA members, partners and Festival quests during the Panel Discussion "Inspiring success stories". Feel the magnificence and splendour of the Côte d'Azur in Cannes, France - World Capital of Festivals! International Festival 'Business Triumph & European Awards Night' will provide a high-profile gathering and unsurpassed B2B networking together with receptions, parties, master-classes, press conferences & interviews.
The festival culmination - European Awards Night is dedicated to honouring the most successful regional business leaders and their companies. The Socrates Committee has nominated your company for the prestigious international award in quality and management spheres – 'Best Regional Enterprise'. This is in recognition of your excellent business reputation, effective management, and constant growth of the enterprise. The head of the enterprise is presented with the title "Best Manager of the Year" and a personal certificate.
Country Rose Ltd was chosen when ranked against the following criteria: investment attraction, high technologies and quality, professional staff and modern management methods. The research was conducted by the analytical centres of the Socrates Nomination Committee (Oxford, UK) with the aim of selecting successful, dynamic companies to join the international business community and benefit from their special support and investment promotion.

Anna Jones
Socrates Nomination Committee
Regional Coordinator
e-mail: coordinator@socratawards.co.uk, jonesanna362@gmail.com
Phone/ Fax: +441865794362, +447852160605