Getting Around Limassol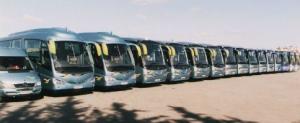 Heavily tied to tourism and port-based commerce, Limassol streets are notoriously packed with visitors and locals trying to get from point A to point B. That's why it's highly recommended that visitors make a habit of using one of the abundant forms of public transport while on the island.
Travel by Bus
A sufficient bus system runs between all major resorts and takes visitors to and from all of Limassol's major attractions. The best part of riding on a bus is that they connect ALL towns and villages on the island - even remote ones.
A privately run bus system also operates in Limassol offering enhanced service and reliable timetables.
Travel by Taxi
Service taxis are shared resources among multiple passengers. This government-regulated system runs 24 hours per day and is useful in heading between main towns in Cyprus.
Transurban Service Taxis are 7-seat taxis that run on fixed routes, much like buses. Running on timetables, they can take you directly to the door of some of the city's main attractions.
Travel by Driver
Another common practice is to hire a driver who can take you to the must-visit places that you may or may not even know about. Visitors can hire cars at airports or other commercial areas. It is highly recommended that these cars be reserved in advance to assure their availability.
Travel by Car
If you insist on driving yourself around town, a few rules you should know. First, an international driving permit or national driving license is accepted for one year.
For safety, road signs are in both Greek and English. Safety belts are required. No one is permitted to use mobile phones while operating a motor vehicle. Finally, traffic drives on the left side of the road.