International Property Awards 2011 - 5 Star Property Cyprus (Silver Carob)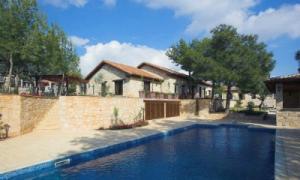 Europe's finest developers, architects, interior designers and real estate agents gathered at The Park Lane Hotel in Mayfair, London on Friday (September 23rd) for the announcement of the winners of the hotly contested European Property Awards. Country Rose got the highest 5-star award in Cyprus for Sterling Silver Carob house #61 in Souni.
The International Property Awards in association with Bloomberg Television and Google was established 17 years ago, they are the world's most prestigious property competition and cover residential as well as commercial categories. Judging is carried out through a meticulous process involving a panel of over 80 experts and covering every aspect of the property business. The judges are not only looking for the most impressive and innovative projects, they are also examining the sustainability and eco-friendliness of every property and development that comes under their scrutiny.
President of the International Property Awards, Stuart Shield, says, "Every year we see entries from new countries keen to grab the limelight and, as this competition has proved over the years, innovation, flair, imagination and originality know no bounds. This is what makes the results of the competition so exciting."