Limassol Culture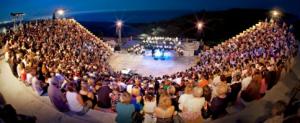 With a rich history dating back thousands of years, ancient ruins offer a plethora of tourist attractions that astound and amaze visitors. The unearthed historical artifacts at nearby ancient archaeological sites, such as the Temple of Apollo, the Limassol Castle and St. Nicholas of the Cats, offer a historical foundation that lays the groundwork for today's cultural life.
An ancient Greco-Roman amphitheatre plays host to many Shakespearian tragedies, Greek dramas, ballet performances and orchestral events and blends modern day entertainment with historic and archaeological charm of the island.
Rounding out this charm are numerous cultural centers and art galleries, including Bank of Cyprus Cultural Centre, Hellenic Bank Cultural Center, Stegi Grammaton & Technon and more.