Limassol Festivals and Events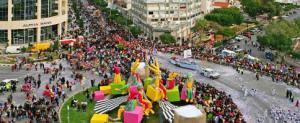 Renowned for its many annual events and festivals, those visiting Limassol must be sure they'll be there in time to hit one of these historic events.
The Limassol Carnival
A 10-day, pre-Lenten festival, the Limassol Carnival dates back hundreds of years to pagan rituals. Rather than a pagan event, today's Limassol Carnival wears a more entertaining face that begins with an entrance parade and a children's fancy-dress competition and lasts for more than a week with celebrations, dress balls, shows, masquerades and celebration.
Limassol Wine Festival
Being a large wine-producing region, the Limassol Wine Festival in early September celebrates the abundance of this festive resource. The Great Wine Festival of Cyprus in the Municipal Garden of Limassol allows visitors to taste all varieties of wines, enjoy dancing, choirs and more.
First established in 1961, this event attracts hundreds of tourists annually to revel in the glory of wine. Held in the traditional of ancient festivals that celebrated the abundance of food and wine.
Limassol Beer Festival
Along the same lines as the wine festival, a Beer Festival features a selection of world-wide beers, live music and great entertainment. The beach resort town of Limassol suits this festive type atmosphere the best.
Festival of the Flood
In Limassol, 40 days after Easter, the Festival of the Flood allows residents and visitors alike to play and splash around in water, which is used as a symbol of that which purifies the soul and the body. The annual event is held in honor of Greek Goddess Aphrodite, the goddess of beauty and love.