News: The most expensive house in Cyprus, the Santa Barbara Residence
7th July 2017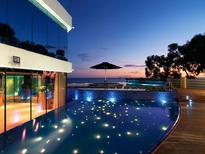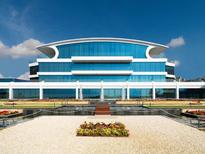 Built on a 2,025m2 plot and with a total area of 3,264m2, this unique beachfront residence in the Amathus area of Limassol, has seven bedrooms plus accommodation for up to nine members of staff. The property is built on five levels:
Level 1 – Staff quarters
Level 2 – Indoor swimming pool, hydro massage, aquarium, bar, changing rooms, solarium, steam room, Finnish sauna room, snow cabin, mud bath room, massage beauty room, gym, winter garden, utility rooms, wine cellar, food storage, freezers, staff service kitchen, plant and machinery rooms.
Level 3 – Three double bedrooms with private en-suite, home cinema/ dancing area, aquarium, winter garden, interior reception, billiard room, exterior reception room, guest wardrobes, service elevator and home security room.
Level 4 – Reception area, kitchen area, dining room with seating for 20 people, sitting room with a fireplace, library and a private study room.
Level 5 – Spacious 200m² master bedroom featuring a 180 degree panoramic sea view; including futuristic wardrobes, plasma TV, projector, outside hot tub, en suite bathroom, fireplace, private office, kitchenette, cloak room, and 3 private verandas. Outside there is a triple garage and an outdoor swimming pool with bar.
News Archive
Country Rose is proud to sponsor CrossFit Games 2019 15 Jul 2019
For SALE luxury Property in Souni, Limassol 15 Apr 2019
If you would have to pay THE SAME PRICE… what would you choose? A bigger house or a smaller apartment? 5 Dec 2018
House Number 28 8 Dec 2017
Your Own Place in Cypriot Sun 11 Sep 2017
International Star Award for Quality (ISAQ) 21 Jul 2017
The most expensive house in Cyprus, the Santa Barbara Residence 7 Jul 2017
New Photos of Sterling Project 20 Jun 2014
Country Rose is awarded an International Quality Award 23 Jan 2014
Country Rose is shortlisted for a WORLDCOB award 22 Jul 2013
Santa Barbara Residence is completed 11 Feb 2013
Country Rose participates in Moscow Property Exhibition 12 Oct 2012
Country Rose takes part in Beijing Property Fair 20 Sep 2012
Country Rose to receive The Bizz 2012 award 21 May 2012
Country Rose joins Facebook 26 Apr 2012
Our new legal support partner 22 Feb 2012
Country Rose on Russian television 10 Feb 2012
New Russian website launch 1 Jan 2012
2011 5-star International Property Award for Country Rose 23 Sep 2011
Another award for Country Rose! 1 Aug 2011
Country Rose Joins Cyprus Developers Alliance 30 Nov 2010
Country Rose participates in St Petrsburg Property Exhibition 26 Oct 2010
Another Award for Country Rose 24 Sep 2010
2010 Homes International Award for Country Rose 16 Sep 2010
Launch of The Santa Barbara Residence 6 Jun 2010
Another Award for Country Rose! 19 Apr 2010
Country Rose Moves to its New Office! 15 Dec 2009
2009 Best Property Cyprus Award 16 Oct 2009
New Customer Services 27 Jul 2009
New Partnership with Sotheby's Announced 20 Jul 2009